One-stop-stop precision CNC milling and turning machine services to fabricate parts and components to exact specifications.
Precise • High-Quality • Custom Designs
CNC Milling and Turning Services Performed In-House
GTR Manufacturing stands out in the machining industry with full CNC milling and turning services. Our expertise is supported by the use of software such as AutoCAD, Mastercam, and SolidWorks, accompanied by an impressive range of machinery that ensures consistent production of parts with unmatched accuracy and excellence.
We work with a variety of materials including aluminum, stainless steel, alloy steel, cast metals, tungsten (WHA), plastics, phenolic, and more to craft custom-shaped components made-to-order and built to exact customer specifications.
CNC Milling and Turning Features
CNC Milling and Turning Features
CNC Milling and Turning Machine List
Our custom craftsmanship is performed on our fleet of first-class equipment:
Makino PS-65 Vertical Machining Center, 30 tool changer, through-spindle coolant
Mazak VCN510 IIC Vertical Machining Center, non-contact tool probe, automatic part probing
Fanuc Robodrill T-21iFLa
PC2 Vertical Machining Center with 2 pallet changers, rigid tapping, automatic part probing
Samsung SL20 CNC Turning Center, 3.00 bore, tool probe, 17.70 swing, 20.47 turn length
Bridgeport 60-4200 rpm spindle, longitudinal power feed, 3-axis digital readout/li>
Kalamazoo 14″ cut-off saw with Mitutoyo 48″ digital readout
Kalamazoo 9″ x 13″ variable speed band saw
3 Head – 15″ Classing variable speed drill bank
Industries Served
GTR's CNC milling and turning capabilities complement the following industries:
Aerospace
Automotive
Commercial
Defense
Electronics
Medical Devices
Robotics
We also offer custom metal work for individual engineers, entrepreneurs, and inventors. See all of our rapid prototyping capabilities.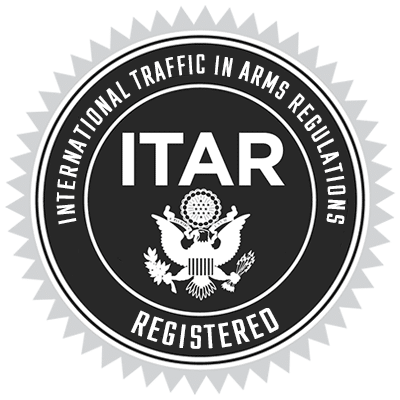 Custom CNC Milling and Turning with US Products
At GTR Manufacturing, we're proud of our approvals and accreditations. Each of our employees is compliant with ITAR citizenship requirements. Our suppliers and vendors fall under our internal ITAR guidelines, ensuring all our external sources are in proper compliance.
We hold to the highest federal, commercial, and private industry standards, ensuring that our products meet the precise needs of our clients. Let us know how we can serve you!
Engineering Support
GTR Manufacturing's experienced engineering department can provide concepts, product enhancements, and reverse engineering. We will work with your team to deliver your parts at competitive costs.
Our sales, management, and engineering teams have experience in a wide range of industries and understand their changing needs. We work in close partnership with our clients in developing and refining product designs and production process planning to simplify manufacturing and create cost savings for your end product.
We have the capability to import and unfold your 3D models ( .dwg, .step, .iges, .sldasm, .ldprt, .dxf) built in Solid Works, Pro/E, and other modeling software. The model is unfolded and downloaded directly into the CAM process, reducing errors and assisting in short lead times for your sheet metal parts.
JIT / KANBAN
By using the Just-In-Time (JIT) inventory strategy, GTR Manufacturing schedules production to meet your ordering needs. We reduce costs by carrying less idle inventory, resulting in a quality product that is delivered on time at a lower price.
We pair JIT with the Kanban technique to manage our highly-efficient development process. We establish minimum and maximum quantities, fulfilling customer needs on a pull system. This method empowers us to reduce inventory for customers and suppliers and uses lean production practices. In addition, we have full insight into your pipeline through an online portal, ensuring it's always full.
Are GTR's CNC Milling and Turning Services Right For Your Next Project?
Is your business in need of custom metal work that adheres to specific requirements?
Have other manufacturers looked at your blueprints and ruled that your systems are "too difficult" or complicated to create?
Are you looking for a straightforward job but are surprised at how long the lead times are?
We are proud to simplify the machining processes by offering CNC milling and turning as part of our one-stop-shop capabilities to speed up project timelines and lower the risk associated with relying on external supply chains. With complete oversight and control over the entire production process—from prototyping to shipping—GTR ensures uncompromised, on-time quality and delivery.
CNC Milling and Turning Guarantee
We haven't built a semi-centennial (50-year-old) business by just making parts alone; our success is equally measured by the trust our clients continually place in us generation after generation.
Leading the industry with the widest range of world-class precision sheet metal fabrication capabilities under one roof is only one of the many benefits of choosing GTR Manufacturing for your next CNC Milling and Turning or other fabrication project.
One Crew
The Industry's Only Single-source Sheet Metal Manufacturer
Manage one vendor, write one P.O., and hold only one party accountable to your project's timeline. Only thing left is to decide what to do with all that extra free time.
One-Stop Pit Stop
End-to-end Services, Limitless Capabilities
We've got the widest range of world-class precision sheet metal fabrication services under one roof. Got a need for speed? Having autonomy over the entire production process means you get the best of both shorter lead times and uncompromising quality.
One Leader
Setting the Pace Since 1973
Leading the industry for 50 years, we have earned an equal-parts reputation for time-tested reliability and forward-thinking ingenuity. We're meticulous engineers and expert craftsmen with a set of unmatched tools and experiences under our belt.
Metal Fabrication Capabilities
Precision Sheet Metal Fabrication
Electromechanical Assembly
GTR Answers the Call for Excellence
We understand that our clients build innovative products that are used to save lives, withstand extreme conditions, or perform highly specialized functions. We pride ourselves on doing everything right to deliver on time the first time. We honor our critical role in your project's overall success and promise to do our part to help you reach the finish line on time.
Quality • Reliability • Capability